Our Congregational Growth and Care committee provides a number of health and wellness activities for our members and members of our community.
Exercise with Rev. Ralph
One of our congregation's favorite health and wellness related activities is our bi-weekly exercise session led by Rev. Ralph. As we age, exercising our bodies becomes more and more important. Our joints get stiff. We lose strength and stamina. We feel tired all of the time. Many of us simply do not have the inclination or motivation to get our bodies moving.
Rev. Ralph, who is also a marathon runner and certified personal trainer, wants to help. Every Tuesday and Thursday afternoon he holds a FREE thirty minute exercise class in Conklin Hall. The exercises are geared toward the needs of older adults and can be performed by anyone at any fitness level. They are also FUN!
Everyone is welcome to attend and get moving.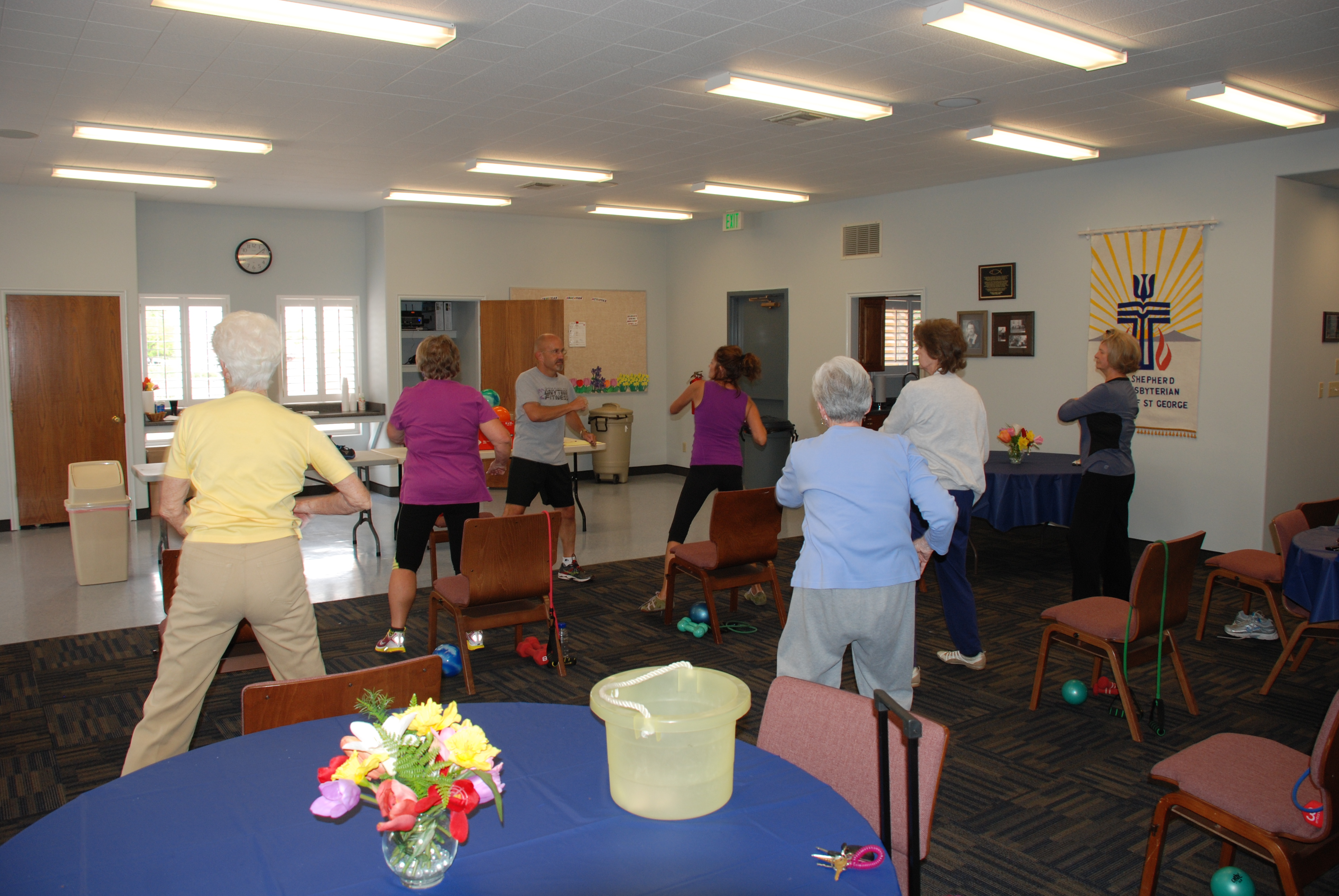 Blood Pressure Screening
An important factor in maintaining personal health is keeping track of your blood pressure and we'd like to help you monitor that important risk factor for cardiac disease. At the back of Conklin Hall during Fellowship Hour on the third Sunday of each month, we are available to take blood pressures. Make it a habit to stop by our table - no appointment needed - to have your blood pressure taken and recorded. Finding a problem early makes it easier to treat!
CPR Certification
Many of our members and friends are certified in performing Cardiopulmonary Resuscitation or CPR. To maintain currency a CPR refresher course is required every two years. Our Growth and Care Committee sponsors a CPR refresher for the Non-Professional, which includes the use of our Automatic External Defibrillators (AEDs) to allow those who are certified keep their certification current or those who want to become certified to do so. There is a nominal fee for the instructor but it is well worth the cost if knowing CPR allows you to save a life.
Lunch & Learn (Formerly Brown Bag Luncheon)
For many years our Parish Health Ministry sponsored lunchtime programs covering a number of health and wellness topics. The Growth and Care Committee will continue to provide interesting presentations by experts, not only in our own community. These presentations will now be called Lunch & Learn. Watch the calendar on this website and the newsletter for upcoming topics and dates.
If you would like to review the information that has been presented during any of our Brown Bag Lunches or Lunch & Learn, click the link on the right to the topic that interests you.